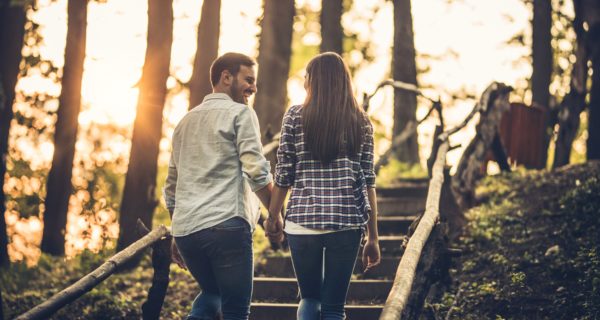 We are all, at our core, social beings. Both our darkest moments and greatest joys involve those who are closest to us. Our partners have the potential to be a source of support, safety, and security . . . or pain, loneliness, and anxiety.
When we choose to enter into relationship as a couple, we invest ourselves in a union more powerful than either individual. All of our hopes, fears, and deepest desires are held by our new, interconnected identity.
When our relationships work, they can provide us with the foundation for an immensely fulfilling life. When our relationships break down, we can feel as if our entire world is crumbling along with them.
It's natural for changes and challenges to arise over the course of a relationship, but if we begin to feel as if our union is cracking, if fear and struggle replace hope and compromise, then we must take action.
Couples counseling provides us with a safe place to explore difficult feelings. It takes courage to seek help in exploring our most intimate concerns, but our efforts are always rewarded. Healing done in partnership ripples throughout our lives, enabling us to enjoy greater well-being in our relationships and personal growth to last a lifetime.
Healing and Transformation
We know that relationships are complicated and relationship issues are painful. We also know that most of these issues, issues that can often lead to break up, are natural, understandable, and able to be resolved through counseling.
During your sessions, we'll help you and your partner transform defensiveness, criticism, and isolation into openness, intimacy, and connection. We'll provide you and your partner with a safe place to explore and express your emotions and concerns, and you'll learn skills and practices proven to restore and strengthen relationships.
While we strongly believe in the power of committed relationships, there are times when they become so destructive that they should end in their current forms. If this becomes true for you, we'll support you in discussing your options and managing difficult decisions as they emerge.
Same-Sex Couples
We work to create a safe, secure, and growth-enhancing environment for all committed couples. While same-sex couples often fall into the same polarizing cycles as heterosexual couples, they also face unique stressors sand challenges that we help couples navigate during the course of therapy.
The Couples ReConnection Service
Treatment is typically divided into 3 Phases: Assessment, Intervention, & Maintenance.
Phase I: Assessment (3 Sessions)
Session 1 – Initial Meeting
This session includes the Gottman Oral History Interview, covering the following areas: current relationship challenges and strengths, the history of the relationship, family of origin influences on strengths and challenges with communication, and current goals for therapy.
Gottman Relationship Checkup
Couples then complete the Gottman Relationship Checkup, which asses strengths and growth areas in relationships along the following dimensions: friendship and emotional connection, sexual intimacy and satisfaction, conflict management, shared values, dreams, and goals, rituals of connection trust & commitment.
Session 2 – Individual Meetings
Each partner, then, meets with the therapist individually for half a session each; time which allows for a deeper exploration of family of origin influences and space for each person to freely share their perspectives on the relationship.
Session 3 – Feedback Session & Movement Into Phase II
The therapist will meet back with the couple together and review the results of the Gottman Relationship Checkup, define a path toward helping the couple meet their goals, and beginning moving into the Intervention Phase of treatment. 
Phase II: Intervention (2-3 Months)
This phase is grounded in the science-based Gottman Method Couples Therapy & Emotionally-Focused Couples Therapy, which may include the following types of interventions (based on the couple's goals and needs):
Managing Conflict Interventions: (e.g., Aftermath of a Regrettable Incident, Dreams w/in Conflict/Navigating Perpetual Problems, Identifying the Negative Cycles/Patterns & creating healthy patterns of communication and emotional expression).
Friendship System Interventions: (e.g., Exploring Love Maps & Sharing Fondness & Admiration) and creating/reinforcing habits of connection).
Couples then complete the Gottman Relationship Checkup 90-Day Post-Test to asses treatment progress.
Phase III: Maintenance
The total length of treatment can vary significantly based on the needs and goals of each couple. After 3 months of treatment, though, there is typically a clear sense of what additional treatment might be needed and how to best support couples in their goals moving forward, whether that includes maintaining regular meetings or meeting for occasional check-in sessions to maintain and build on progress.